About Boyce Chiropractic Lisle
Our Mission
Our mission at Boyce Chiropractic Lisle is to impact lives profoundly, by helping patients become their healthiest and supporting them in raising happy, healthy families. We are a true family practice, offering your loved ones the same outstanding care we provide our own families. We want every patient to feel the genuine compassion we have for them.
The Road to Lisle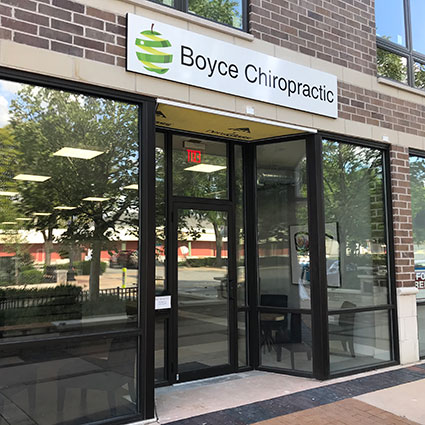 Dr. Justin Boyce graduated from Logan College of Chiropractic in St. Louis in 2003 and began practicing as an associate in Chicago. A year later, he purchased that practice from the retiring owner. After practicing in Lincoln Park for about fourteen years, Dr. Boyce and his family moved to La Grange, and he opened a practice there in 2017. In 2019, he added our Lisle location.
Our office here reflects our approach to patient care—it's an energetic, fun, caring atmosphere, with a professional approach to your treatment and results.
We Love Results
We love when patients get results that far exceed their expectations. People tend to adapt to pain and dysfunction and only seek care when they can no longer do something they love—by then, they forget how much better they felt when they were functioning normally, before the slow decline began. So we're delighted when patients tell us they forgot how good they could feel, and how much their quality of life has improved, along with their function and mobility.
Educating our patients about the body's ability to heal and function is a big part of our practice. Many people don't realize chiropractic is a safe, natural alternative to opioids and other pain medications, and they appreciate having a healthier option for their family.
Start Today
Contact us today to book an appointment for yourself or your family. Be sure to ask about our new patient special. We look forward to welcoming you.
---
About Boyce Chiropractic Lisle | (708) 446-0117