Meet Dr. Justin Boyce
A Sincere and Caring Approach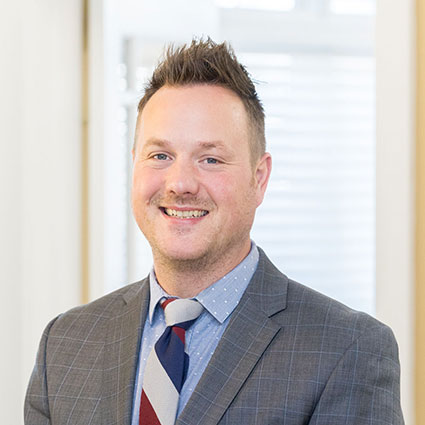 Many patients' first impression of Dr. Boyce is that he's sincere and caring. He's grateful when patients choose Boyce Chiropractic Lisle for their family's health needs—being able to make a difference in the lives of patients and in the community inspires him to do his best every day.
Chiropractic Education
Dr. Boyce didn't always plan to become a chiropractor. As an undergraduate, his goal was to become a veterinarian. A summer stint working for a vet helped him realize that wasn't his calling after all.
A lifelong athlete, Dr. Boyce had been working out at a gym owned by two chiropractors. They shared some of their experiences of helping people, and that sparked interest in learning more. He visited Logan, conveniently located in his hometown of St. Louis, to gather more information. The more Dr. Boyce learned, the more he felt chiropractic was the path for him. He received his Doctor of Chiropractic from Logan College of Chiropractic in 2003.
Expanding his education to better serve our prenatal patients, Dr. Boyce is certified in the Webster Technique. He also provides specialized care for infants and children.
An Evolving Perspective
From his first day in chiropractic school, Dr. Boyce knew how effective chiropractic care can be for pain. Now, nearly twenty years later, his perspective has evolved, and he understands how important wellness is and how much chiropractic care can impact lives for the better.
Society today is focused on disease management, rather than creating health, and Dr. Boyce strives to change that focus in our community. He educates patients about creating optimal function and mobility with the goal of achieving true wellness—for themselves, and for their families.
EXPLORE CHIROPRACTIC
In His Spare Time
An ice hockey player since childhood, Dr. Boyce has passed that passion on to his two children, who also play. When he's not at work, he enjoys spending time with his wife—often at their kids' hockey games.
Book Today
Contact us today to learn more or book an appointment. Be sure to ask about our new patient special!
---
Dr. Justin Boyce | (708) 446-0117